A-writer.com Review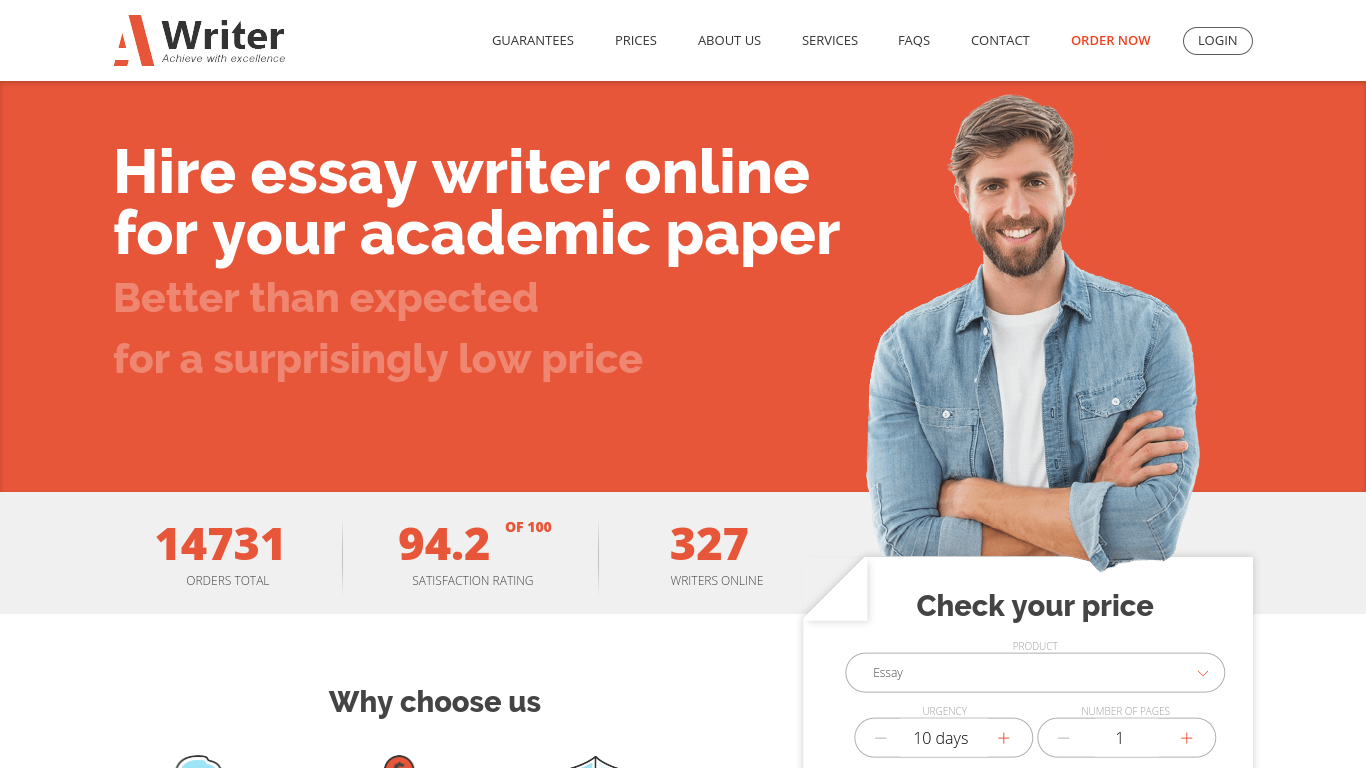 Price:

star star_half star_border star_border star_border

Service:

star star star_border star_border star_border

Discounts:

star star star star_border star_border

Usability:

star star star star_border star_border
4.8
General Information
There are lots of custom service companies out there, but not all of them are cut from the same cloth. Our job is to examine all of the major writing services and provide you with enough information to make your own decision. For this review, we took a look at A-writer.com. This website claims to be based in North America and offers academic writing services for students ranging from high school through graduate school. As we do with all of the companies, we took a look at some of their most important features in order to determine whether they deserve our recommendation. A good company should have a website that is transparent and easy to navigate, a list of guarantees that protect the customer, a wide range of services, quality writing, and affordable prices. Here is our report on A-writer.com
Usability
The layout, colors and graphics are perfectly fine. The price calculator is a convenient feature that customers will appreciate. It was easy to navigate through the website, which is another plus. However, the amount of information on the homepage was frankly ridiculous and unnecessary. It covers some of the FAQ, but given that the website already has an entire page dedicated to this, what is the point of including it on their homepage as well? The grammar used on the website also leaves a lot to be desired. It certain does not inspire much confidence, especially if we are to believe the company is run by a bunch of native-English speaking academics.
Guarantees
Original work
Zero plagiarism
No orders are ever resold
Personal manager assistance
Credible sources
24/7 customer support
Specialization
Based on the information we found, A-Writer provides services for students from high school up to doctoral level. We could not find any services for business owners. This is not necessary a negative, however. By focusing on a narrow client base, it allows the company to streamline its process and concentrate on what it does best, which is to write academic papers.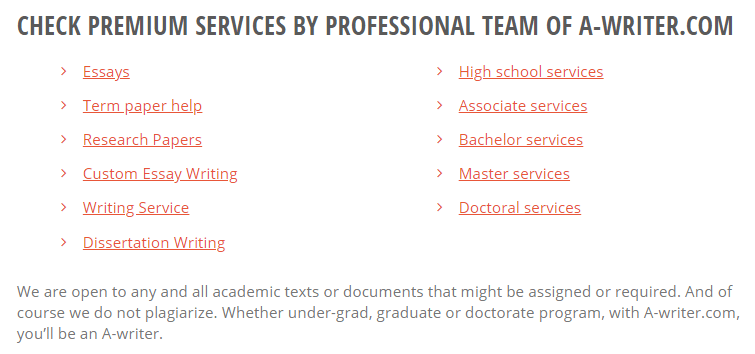 Our Order
As we always do when we review any writing service, we order a custom paper. In this particular case, we asked for a 5-page college-level paper on the topic of the 2016 US Presidential Elections and Russian Meddling. What we ended up with was an essay that clearly demonstrated the writer's lack of understanding about American politics. Given that our writer was supposedly an expert in the field, this pretty much proved we had been conned. When a paper is merely mediocre, we often give a company a pass. But when it is obvious that they do not really care about the quality of their work, there is no reason for them to profit off of us. The customer support agent tried to convince us to accept a discount off our "next paper" but we obviously would have no use for it. They finally did relent and give us a full refund.
Payment/Special Offers
The prices appeared to be amazingly high. For instance, a high school-level paper with a 10-day deadline only costs $21.99. In case that this were proposed to be an exceptional site entirely for professionals, such prices could be reasonable. But college students hope to have the capacity to purchase custom paper without being charged such extreme expenses. A-Writer offers 25% discount for a new customer, but membership discounts are not applied to orders under $30.00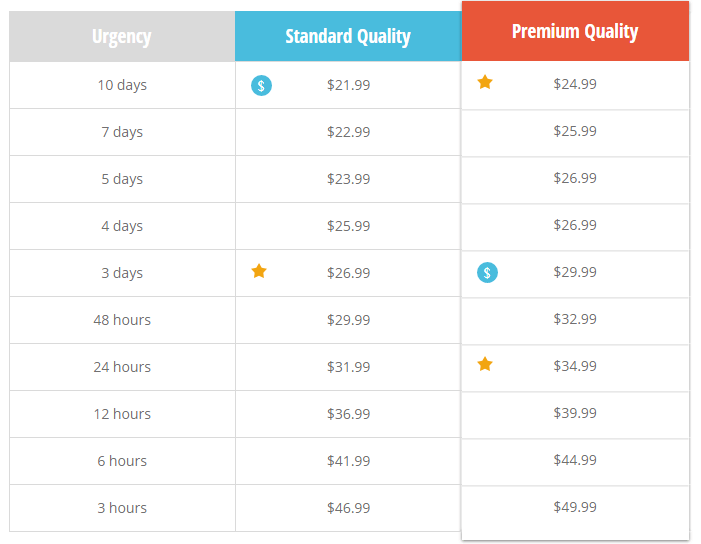 Free Extras
Revisions
Title page
Outline
Reference list
Formatting
Amendments
Summary
While we have no reason to believe A-Writer.com is a scam, we have zero confidence in their ability to produce quality papers. We also believe they lack transparency, which is why we would not recommend their services.