EduBirdie.com Review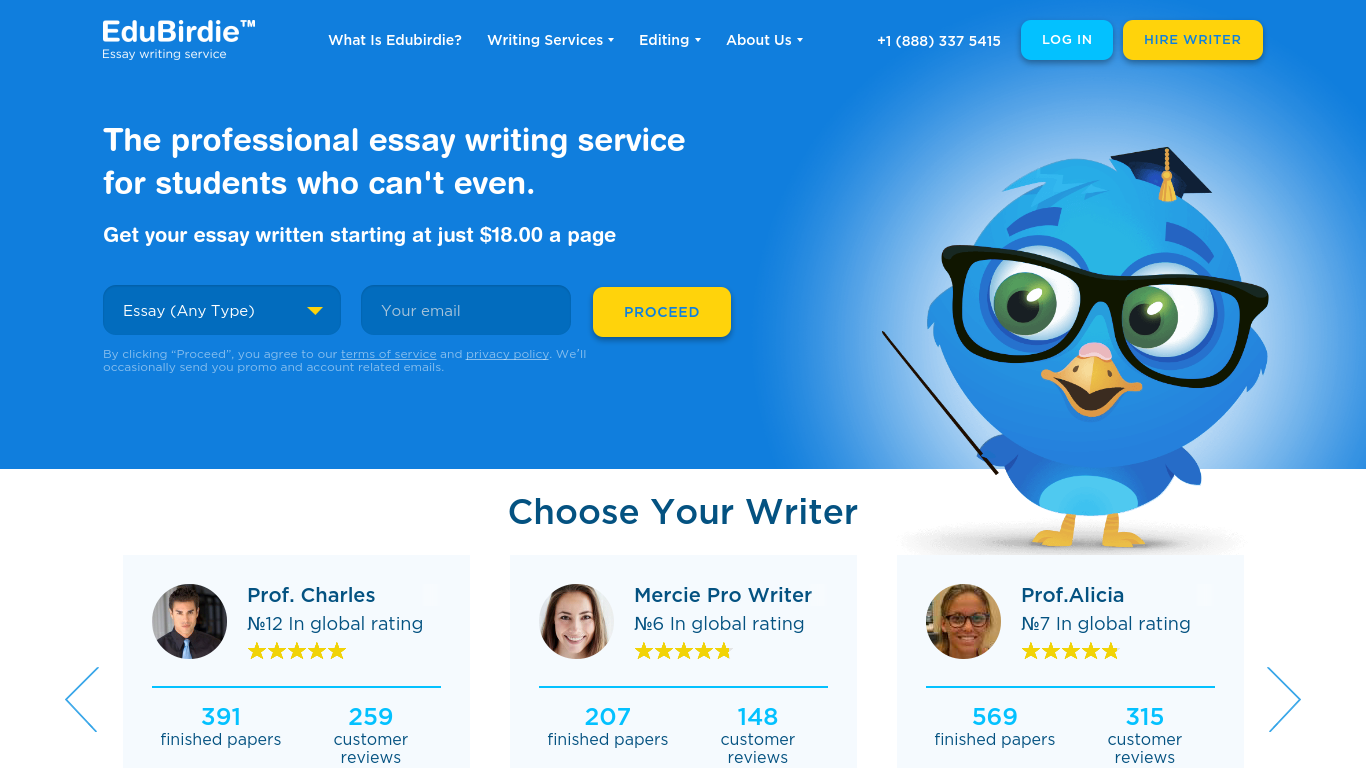 Price:

star star star_border star_border star_border

Service:

star star star star star_border

Discounts:

star_border star_border star_border star_border star_border

Usability:

star star star star_half star_border
4.8
General Information
If you are a student who is in need of high quality custom writing, choosing an academic writing service is a great idea. But if you want to make sure that you receive a paper that is delivered on time, free of plagiarism, and gets you a good grade, pick the company wisely. Our reviews will make it easy for you to decide.
For this review, we examined EduBirdie.com. The first thing when we looked at their website is that it is well designed and visually appealing. Their slogan "The professional essay writing service for students who cannot even" is a bit corny though. Fortunately, we do not rate a company based on their use of clichés. Instead, what matters is the quality of the paper. Is EduBirdie.com good at what they do? Let us take a look.
Usability
The website is very easy to use. The main menu provides visitors with most of the important information. There is even a blog that contains both useful writing tips and fun reads such as "30 Fun Facts about Star Wars."
Guarantees
A good sign that a company is not a scam is when they offer guarantees. From that standpoint, we can confirm that EduBirdie.com is legit. They guarantee that papers will be delivered on time and free of plagiarism or the customer does not pay. They also guarantee that the paper will be of high quality and written by a professional.
Specialization
When you look at the services that EduBirdie.com provides, you will notice that they really do seem to offer a lot. For instance, they can work on your essays, research papers, book reports, term papers, PowerPoint presentations, and much more. Unlike a lot of services, EduBirdie.com works on a bidding system in which writers will place a bid and offer their services. We found this feature somewhat puzzling because it appears that anybody can place a bid, not just the writers who are most qualified to complete the task. It does not seem logical that a writer with a master's in biology would bid on our history paper, but that is precisely what happened.

Order Process
The best way to determine the quality of a custom writing service is by ordering a paper. So that is exactly what we did. Unfortunately, this is where things got weird. We requested a college level paper on the topic of the history of Canada. It was a 6 page essay with a 14-day deadline. We also requested APA formatting and 6 high quality sources. After we submitted our order, we immediately received a ton of bids. Something did not seem all that right about it. We could not help but wonder how they were able to place a bid instantaneously when it clearly did not provide them with enough time to even read our description. Needless to say, none of the writers appeared qualified to write our paper. Had it been an actual order, we would have ditched EduBirdie.com and looked for a service that takes the process of matching an order up with an expert on that subject seriously.

The paper that we received was not a complete disaster, but the writer certainly was not a specialist. We noticed a few obviously grammar mistakes and it was clear that they writer was just phoning it in. Canadian history might not be the most exciting topic, but we were hoping the writer would have the creative ability to write something compelling regardless. This paper would likely get a C in an actual college class.
Payment/Special Offers
Since this company works on a bidding system, there is no set price. Our bids were pretty ridiculous. They ranged from around $120 up to $170. The lowest price was around $18/page which is significantly more than what most companies charge for a college-level paper. When you also take into account that our paper was not all that great, it really does seem like a ripoff. In any event, they accept major credit cards and PayPal, so at least your payment will always be secure.

They do not seem to offer any discounts for first-time customers. However, they do have a loyalty discount bonuses for repeat customers.
Free Extras
We could not really find any free extras such as a title page or reference list per se since EduBirdie.com operates on the bidding system. We also could not find any information about plagiarism reports, outlines, appendices, or any of those other freebies that other companies provide. However, we did notice that if you want them to find a writer for you, they charge an extra $9.99. We understand that the company has to make money, but the fact that their papers cost so much to begin with, it would be nice if they gave budget-conscious customers some relief.
Summary
Based on our experiences with EduBirdie.com, we would not recommend their services to customers. First, their bidding system creates too much uncertainty. In particular, writers who do not even have the qualifications to complete the order will place a bid anyway. By contrast, a lot of other companies make it a point to assign their customer's orders to the most qualified writer. The fact that our writer did not have the proper background was almost certainly the biggest reason why our paper was so mediocre. Finally, we take issue with the high prices that bidders place. This definitely makes it difficult for EduBirdie.com to make itself accessible to anybody but the most affluent students. Frankly, that is not how custom writing services should operate.