SameDayEssay.com Review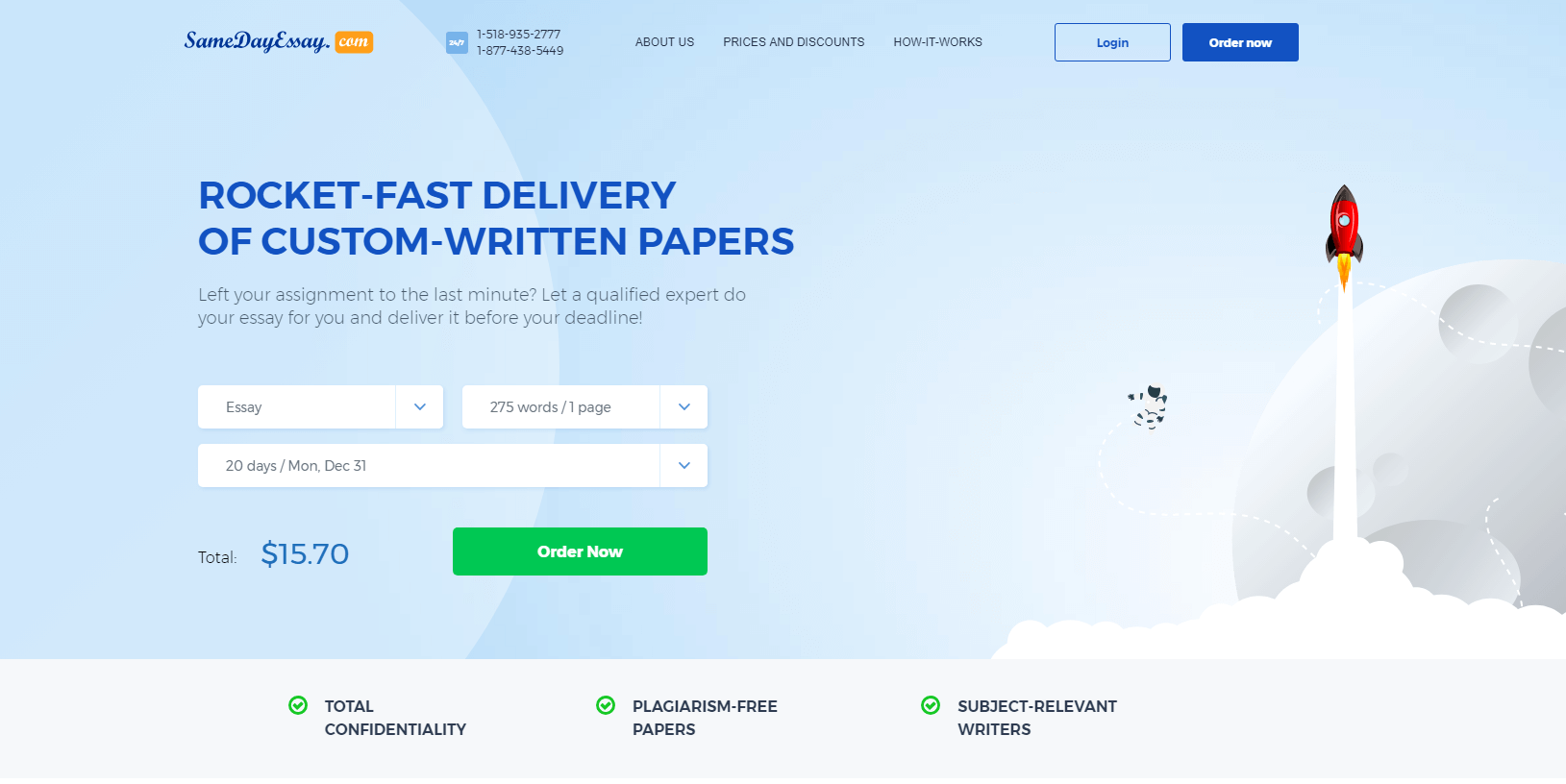 Price:

star star star star_border star_border

Service:

star star star_border star_border star_border

Discounts:

star star star_half star_border star_border

Usability:

star star star_half star_border star_border
5
General Information
There are a whole lot of custom writing services out there - frankly too many. While some of the companies are very good at what they do, the majority are nothing more than mediocre imitators are. The reviews and feedback on these companies are often written by staff members (the good) or competitors (the bad), which makes it almost impossible to cut through the fog and figure out which services are legitimate. Finding out the truth is what we are all about. We provide unbiased reviews so that you can make an informed decision about which company to choose. For this review, we looked at SameDayEssay.com. How did they do? Read on to find out.
Usability
The SameDayEssay website was kind of cute. It features a cartoon rocket that goes around in circles while the website loads. Aside from a nice graphics, we also found that the price calculator was convenient. We did find one major issue though: we were not able to figure out exactly wide their service options are since there is not an actual services page that lists them. When you go to the bottom of the website, it sort of gives you a vague idea in the form of really cluttered links to their individual services. Do they offer PowerPoint presentation help? Perhaps. But we had no clue since everything is so jumbled.
Guarantees
Free Revisions
Customized Service
Secure payment options
Zero plagiarism
24/7 customer support
Specialization
Again, we were only able to determine what services they provide because we had the patience to look through their scattered list at the bottom of the website. An organized, bullet-point list would have made a whole lot more sense though. Regardless, we determined that they can order almost every possible type of academic writing from basic essays all the way through complex dissertations. They also offer college admission essay help, personal statements, and custom CV/resume services. Aside from writing services, they have departments dedicated to proofreading, rewriting and formatting.
They also have a large bank of free essays written by their writers, so we helped ourselves to a few of them. We were kind of surprised that this was the best they had to offer. The sample papers contained glaring grammar mistakes that even non-English speakers would have been able to notice. In addition, they were written in a fairly simplistic manner and certainly not by somebody with the kind of experience and knowledge that company claims to possess in its writers. Also, the essays were copyrighted in 2009 even though the company did not launch until 2010. This might seem a bit nitpicky, but it either means they are a sloppy organization or deliberately deceptive.
Our Order
In order to gauge the quality of their services, we took it upon ourselves to order a custom paper from SameDayEssay. In particular, we requested a 5-page reflective paper on the topic of American college life with a 7-day deadline. While we understand that the writer was not in college anymore, we were expecting them to base the paper on the experiences of their college days. However, what we received was clearly not written by somebody who had ever stepped foot on an American campus. The fact that we did not get an American writer in spite of the company's promises should be regarded as a red flag.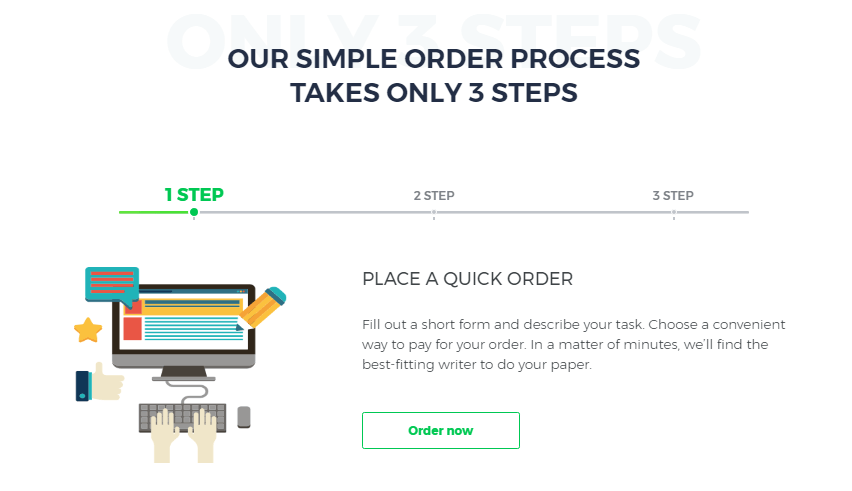 Payment/Special Offers
SameDayEssay.com prices their papers a few cents below the industry average. A basic essay with a 20-day deadline will cost you $11.86 per page while PhD-level work with a 3 hour deadline costs $44.95. The final price depends on such factors as the page length, deadline, academic level and type of paper.

Our original price was $89.75, but we used the 15% discount that all first-time customers are entitled. We find that to be a really good deal, but we still wish they had given us the American writer we had requested. It should be noted that our discount did not go back into our pockets. Instead, it was credited to our account so that we could use them for future papers, even though we would have no reason to use their services in real life. We would suggest that they give customers a choice to either use the savings as credits or to cash them in and keep the money.

Free Extras
Summary
SameDayEssay.com is legitimate in the sense that they really will deliver a paper and are not looking to steal your money. But the fact that they lie about the qualifications of their writers is enough for us to conclude that there are better, far more trustworthy writing services out there to choose from.