EssaysBank.com Review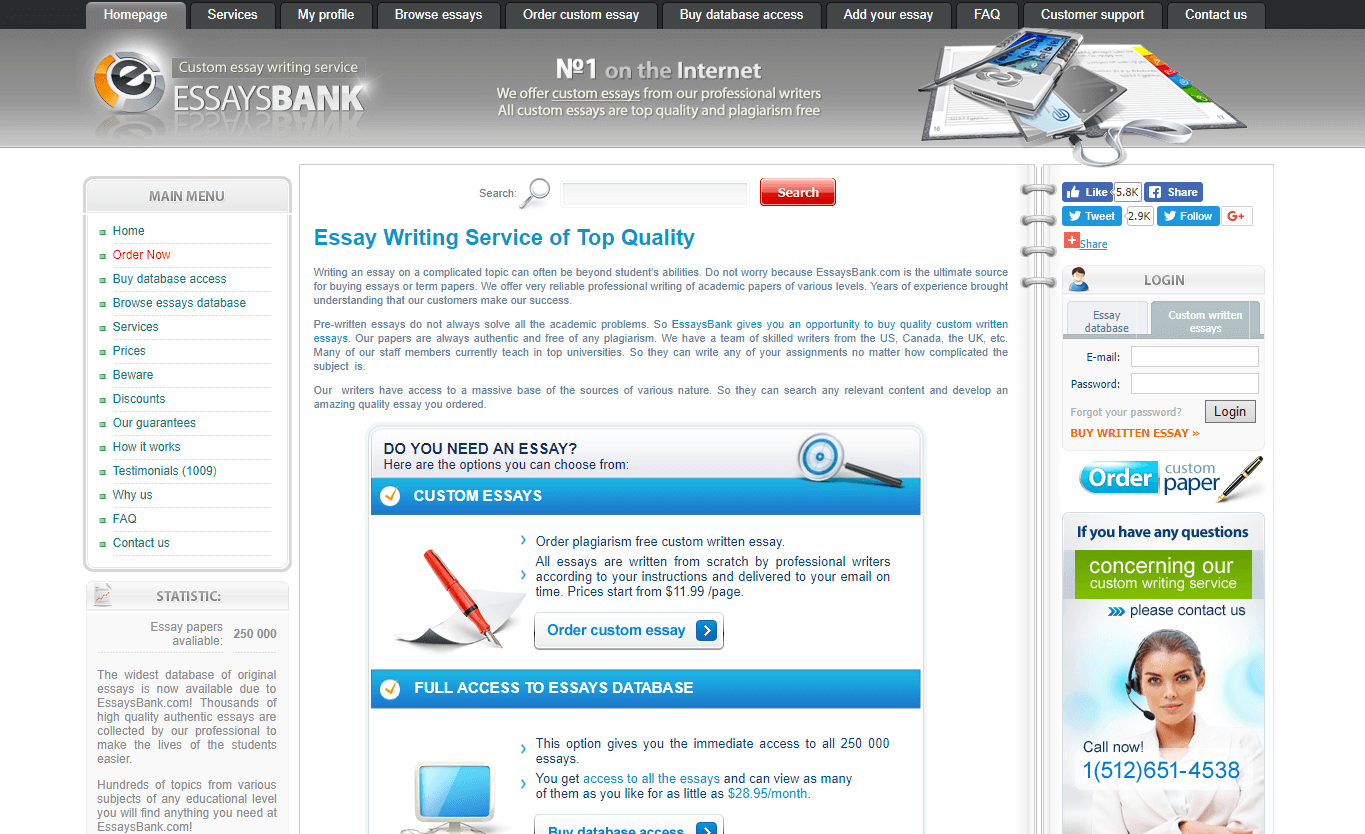 Price:

star star star star star_border

Service:

star star star star star_half

Discounts:

star star star star star_border

Usability:

star star star star star_half
8.5
General Information
These days the custom writing service industry is growing increasingly sophisticated. For instance, companies are gaining access to the same online libraries and scholarly journal databases that top universities offer their students. In addition, more and more freelance writers are choosing to work for academic writing companies. The problem is that while many services have a vigorous hiring process, others seem indifferent about who they hire as long as they have received their customers' payments. Our job is to help customers find the reputable services while avoiding the unreliable ones. A lot of our readers have been asking for us to look into EssaysBank.com. In particular, they are curious about their graduate-level research papers, so we decided to order one. Here is what we discovered.
Usability
We find that the website is somewhat minimalistic, but that is not necessarily a bad thing. Some of these custom writing websites are a complete mess, with all this meaningless text crammed into it. This is not an issue with the EssaysBank website, although they have kind of the opposite problem: you have to look around a bit to find all of the relevant information. The service page provides a description of many of their services, but the best way to really find out if they are able to do your bidding is by looking at the dropdown menu on the order page.
Guarantees
Relevant sources
Revision Policy
Money back policy
Zero plagiarism
Specialization
As we noted, when you look through the options on the order form, you will notice that EssaysBank offers a whole lot more than just essays. They can also write term papers, Excel homework, lab reports, and even take online-based tests. While the majority of their requests are from students, they also offer services for businesses including marketing reports, web design, blog articles, and PowerPoint presentations. Aside from made-from-scratch content, they also offer rewriting services as well as proofreading, editing and formatting. Overall, they have a very comprehensive assortment of services.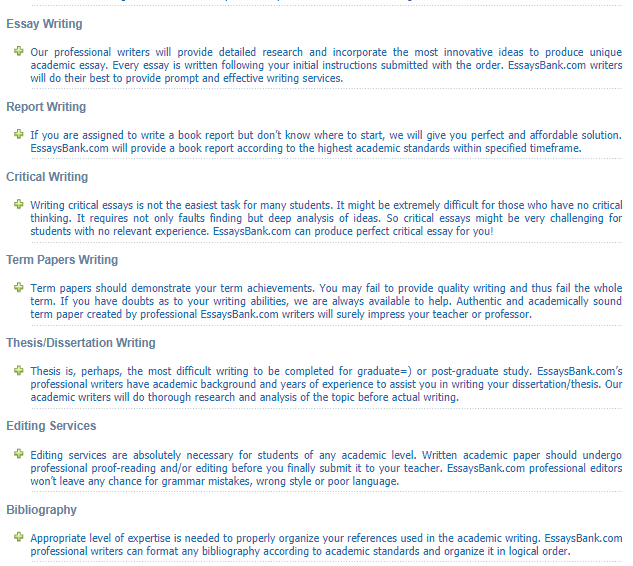 Our Order
When we evaluate most custom writing companies, we usually choose college-level papers as our default option. But since a lot of readers are interested in finding out what a Master's level research paper looks like, we decided to order one from EssaysBank.com. The topic was US Homeland Security and the allocation of limited sources to combat terrorism. It was to be 8 pages long with an 11-day deadline, APA citation, and at least 10 quality sources. It required the writer to think critically since the purpose was to argue for a particular policy. We can report that the paper was very impressive. It was well structured, it did not diverge from the thesis statement, and all of the sources were relevant and current. If a customer is fortunate enough to have a similar experience, they definitely will not be disappointed.

Payment/Special Offers
Prices before any discounts start at $11.99 for a one-page high school-level paper with an 11-day deadline. This is one of the more affordable services on the market. They offer a variety of fee-based extras such as SMS alerts, VIP package services, and extended revisions, but they are very transparent about it. A lot of other companies will check the box as the default option, forcing customers to pay if they were not aware that they were being charged extra. Our Master's level paper cost $21.99, which is really impressive given the amount of research and effort that goes into it.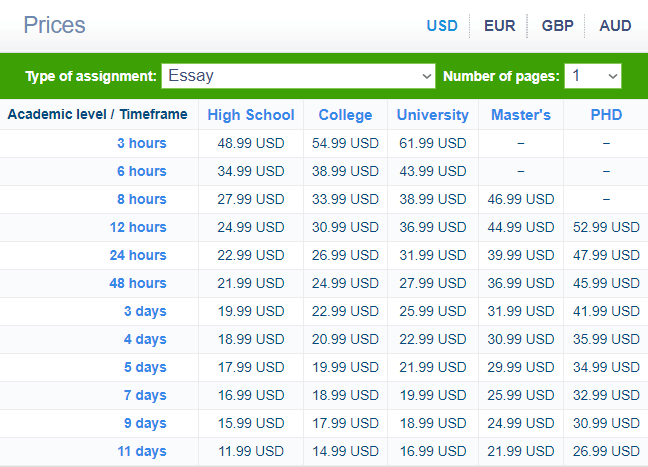 First-time customers who are looking for a good deal will find one with EssaysBank.com. Every initial order comes with a 15% discount. They also run seasonal promotions in which customers can save as much as 20%.
They also have a discount program for long-term customers that works as follows: 5% off after the customer has ordered a total of 15 pages. 10% after they reach 45 pages and 15% after 90 pages. Some of the other services offer better discount plans, but we have also found others that do not provide discounts at all. So in that sense, EssaysBank.com falls in the middle.

Free Extras
Plagiarism report (by request)
Outline (by request)
Title page
Bibliography page
Free revisions within 48 hours of the order expiration date
Summary
We would definitely recommend EssaysBank.com to graduate students. Our paper was affordable, delivered on time, and was well written. Our writer clearly put a lot of effort into both the research aspect as well as with the content of the paper itself. If our experience is any indication, customers will get exactly what they need.